Our More About
Renewable Energy Projects
Solar Power Projects:
Railway Board has planned to install about 1000 MW of solar roof top & ground mounted power plants to harness the untapped potential of roof-top spaces on Railways buildings, stations, hospitals etc. and vacant Railways land lying with different Zonal Railways (ZR).
Indian Railways has targeted to source 20 GW solar plants on Railway vacant land. Out of which 3 GW solar projects are being dealt by REMC Ltd.
248 MW solar roof-top projects:
REMC LTD successfully awarded 248 MW solar roof top projects on behalf of ZRs with and without Central Finance Assistance (CFA). Some of these projects have been successfully executed & commissioned whereas some are under various stages of execution.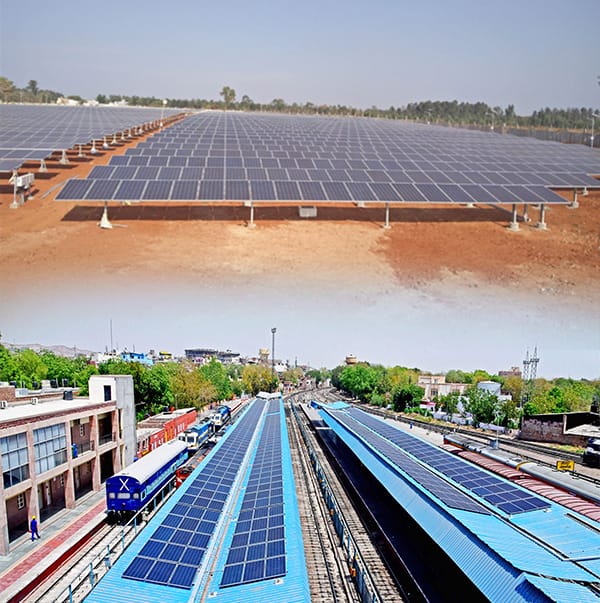 50 MW solar ground mounted project:
REMC Ltd has successfully awarded the Solar Power Developer. Land lease agreement signed between SECR and REMC Ltd. Land Use Permission Agreement (LUPA) signed between REMCL and Solar Power Developer. The plant is expected to generate approx. 106.25 MUs of solar power annually. Power generated from this plant will be evacuated through nearby CTU/PGCIL substation at Raipur and shall be used for traction purpose in different states for partly fulfillment of RPO of IR. Connectivity approval has been given by CTU. The project is likely to be commissioned shortly by December '2021.
3 GW of Ground Mounted solar projects:
REMC Ltd has got its first mandate of implementation of 3 GW of Solar based capacity over vacant land parcels of Indian Railways. Tenders have already been invited for the same in three phases:
Phase 1-

Solar Plant of 1.6 GW capacity on Railway plots in open access states under Developer mode.

Phase 2-

Solar plant of 400 MW capacity on Railway plots in non-open access states under CAPEX mode.

Phase 3-

Solar plant of 1 GW capacity on Railway plots along railway tracks under developer model in open access states
400 MW solar ground mounted project:
Indian Railways is planning to source green energy from upcoming solar park in Madhya Pradesh being developed by Rewa Ultra Mega Solar Energy (RUMS) Ltd, a JV between Solar Energy Corporation of India (SECI) & Madhya Pradesh Urja Vikas Nigam Ltd. (MPUVNL). The proposed capacity of the solar park will be 1500 MW out of which 400 MW power will be supplied to Indian Railways in states of Gujarat, Maharashtra, Rajasthan, UP-ISTS, UP-STU, Haryana, Jharkhand, DVC Area & Bihar, under optimum scheduling method & limited to 207 MW (equivalent to 400 MW solar plant capacity). This proposed state wise distribution of solar power will help Indian Railways to meet its Solar Power Obligations (SPOs) as per MoP requirements. The bids for the same have been already been invited by RUMS.
15 MW Solar power pilot project with storage solution at Butti Bori, Nagpur,CR :
A land based solar power pilot storage plant in developer mode was initially planned on the land parcels at Dahod, Ratlam division, Gujarat (WR) in developer mode. Accordingly, an expression of interest was published on 16.12.2020 and was opened on 13.01.2021.
Site visit of prospective bidders to Dahod, WR with KPMG, REMC Ltd. & WR was held on 19.02.21.
The site at Dahod was, however, allocated for alternate use and thus REMC Ltd. identified other sites nearby at Ratlam, WR and also at Nagpur, CR near Butti Bori TSS.
Land sites, load profile of TSS studied & demand analysis carried out with KPMG and finally, the land site at Buttibori with an envisaged capacity of 15 MWp with 7 MW/14 MWh storage capacity is finalized. NIT has been floated on Bharat Tender Portal on 30.05.2021 and Bid Due Date is 09.08.2021